Red Rock Regional Theatre & Gallery
Open Hours
Saturday & Sunday : 11am – 4pm
or via appointment
Red Rock Regional Theatre & Gallery
Open Hours
Saturday & Sunday : 11am – 4pm
or via appointment
Shows & Exhibitions
Reschedule To a Later Date

Magnolia Tree
Ezra Bix is Jack 
Rohan Hayes is Deborah
Tottie Goldsmith is Vicky 
A script which is remarkably funny but never black, a brilliant and gripping story using a strategy of slowly revealed deeper truths that see these siblings travel ever further towards a Heart of Darkness . . . Or is it light?
RRRTAG has a long term sustainable vision for its venue and the arts. This vision includes an expansion that will enable RRRTAG to become more sustainable while maintaining a welcoming arts experience for our community.
We look forward to sharing our ideas in the near future with the hope of inviting you back for more quality arts and cultural entertainment.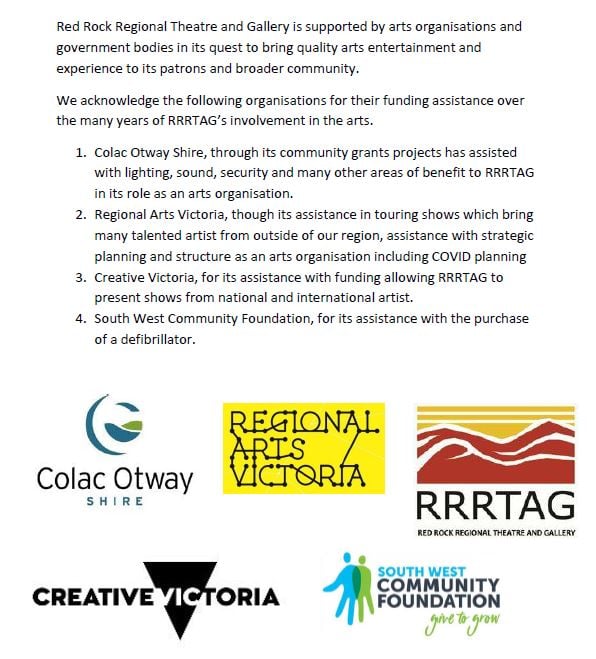 Who would have thought, A Tram in Cororooke!
Arts Line 789 is an exciting new project to reinvigorate RRRTAG and our community.
The old W Class Tram built in the 1930's; spending its life rattling up and down the Brunswick line of Victoria's capital city, would never have thought its retirement would be spent in the small country town of Cororooke. Becoming a home for Thespians', if it could think, it would have been the last thing on the mind of this 19ton museum relic. The W Class Tram will be converted into an: Artist Lounge, Entertainment Area, and Dining Car.
The project is supported by Colac Otway Shire, Victorian Government and Creative Victoria
  Tottie Goldsmith
Featured
Theatre Artist
Coming Theatre Event
'The Magnolia Tree'
Reschedule to a later date. 
Book Here Click !!