Red Rock Regional Theatre & Gallery
Open Hours
Saturday & Sunday : 11am – 4pm
or via appointment
Red Rock Regional Theatre & Gallery
Open Hours
Saturday & Sunday : 11am – 4pm
or via appointment
Shows & Exhibitions
The HAll COMMITTEE
COMING TO RRRTAG 22nd October 2022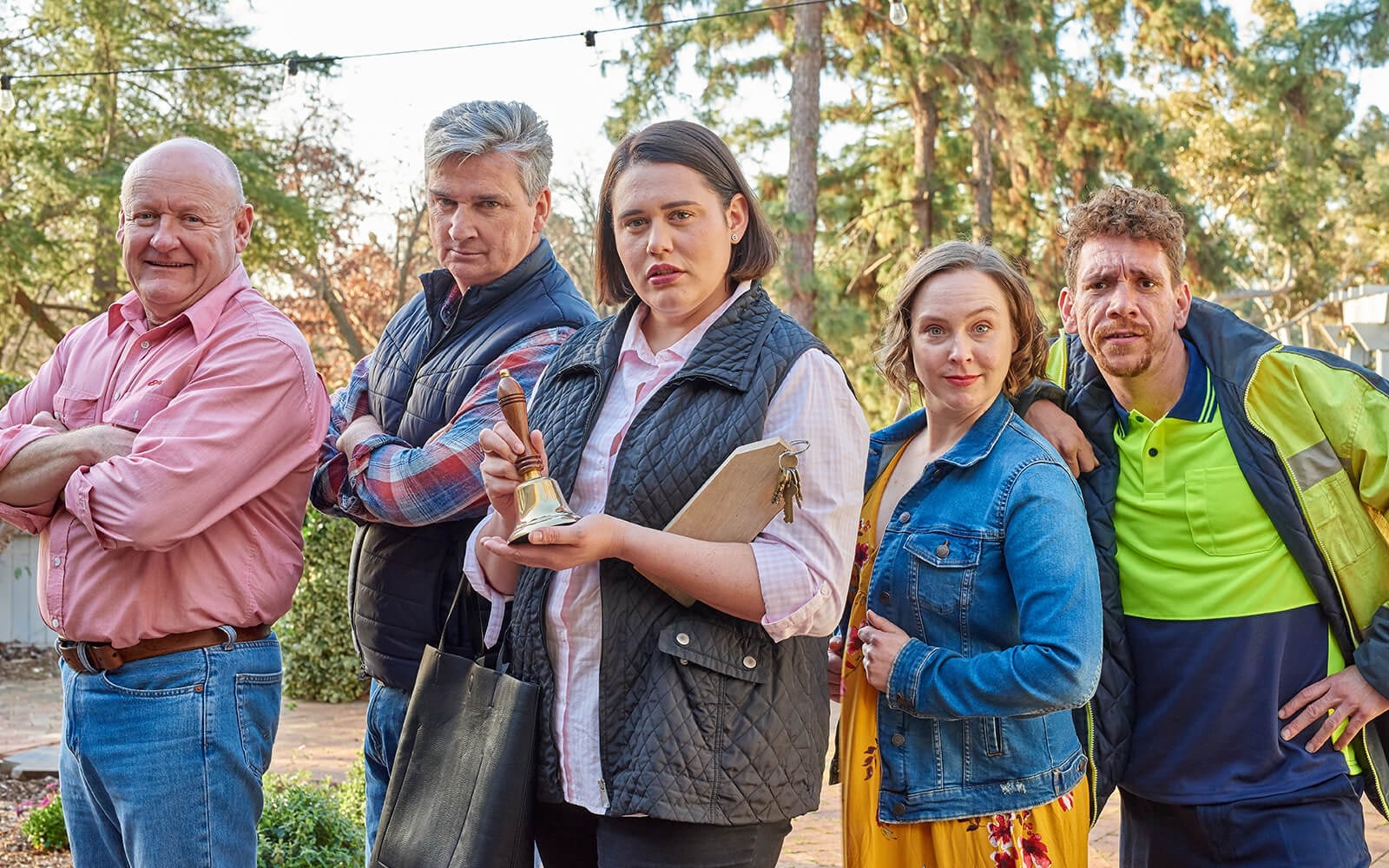 THE HALL COMMITTEE
The Rummage South Memorial Hall has seen better days. With white ants in the walls, possums in the roof and pigeons in the projection booth, the local wildlife are getting more use out of the hall than the locals. Due to the stringent restrictions enforced by Brenda, the stubborn hall committee president, many residents have given up even trying to book the place. However, when tree changer Rebecca manages to sweet-talk her way onto the committee, the community gets a shake-up. When she reveals that a hall grant is within their reach, the fractured committee ultimately join forces and put their differences behind them. Unbeknownst to the committee, the hall is also inhabited by the spirits of the hall's past, who weave their subtle magic to help the hall and its community heal.
"Heartfelt, very funny, superbly detailed and structured like a dream." – Peter Casey, Wagga Wagga
"Damian Callinan, it was a delight, an absolute cracker of a play. You captured the eccentricities of small-town committees beautifully. We truly need more experiences like those in rural Australia, it is so good to laugh like we did." – Bernadette Bodel, Ganmain
"Really enjoyed the show at Uranquinty! Fabulous performance from the cast, although I did feel a tiny bit sorry for the person who brought Tim Tams!! " – Andrea Simmons, Uranquinty
"Loved the performance in Ganmain! The funny & clever interactions with the crowd were a highlight. The acting was superb, and it resonated across the generations. We have had enquiries about more performances, so the demand is definitely there." – Bronwyn Hatty, Ganmain
Booking Available Soon 
RRRTAG has a long term sustainable vision for its venue and the arts. This vision includes an expansion that will enable RRRTAG to become more sustainable while maintaining a welcoming arts experience for our community.
We look forward to sharing our ideas in the near future with the hope of inviting you back for more quality arts and cultural entertainment.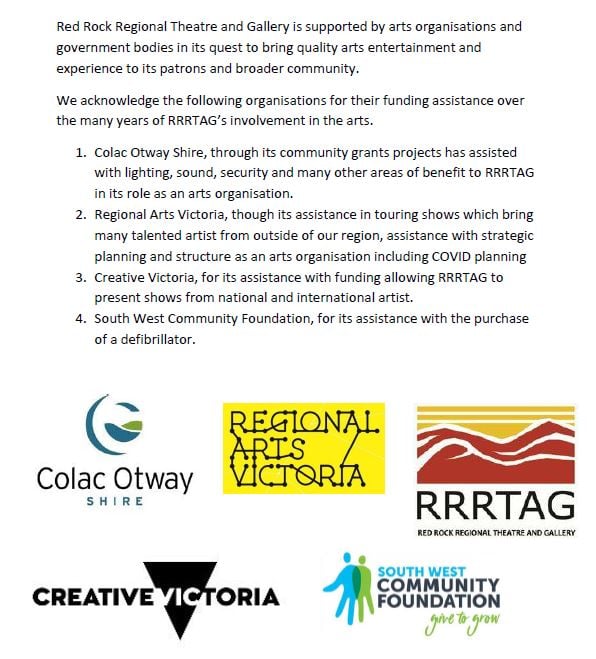 Who would have thought, A Tram in Cororooke!
Arts Line 789 is an exciting new project to reinvigorate RRRTAG and our community.
The old W Class Tram built in the 1930's; spending its life rattling up and down the Brunswick line of Victoria's capital city, would never have thought its retirement would be spent in the small country town of Cororooke. Becoming a home for Thespians', if it could think, it would have been the last thing on the mind of this 19ton museum relic. The W Class Tram will be converted into an: Artist Lounge, Entertainment Area, and Dining Car.
The project is supported by Colac Otway Shire, Victorian Government and Creative Victoria