Gallery
The Red Rock Regional Gallery situated in the township of Cororooke occupies the towns historic Saint Davids Uniting Church. 
The light filled gallery offers a diverse ever changing range of exhibitions to the public.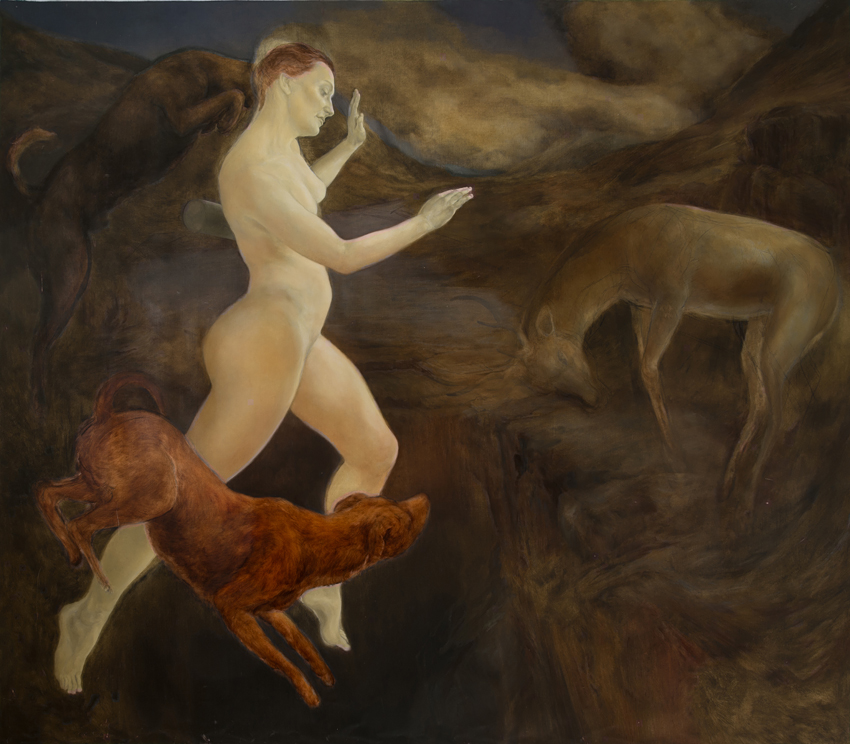 Michelle Caithness
Diana and the Hounds.
Oil on linen.
In 2007 I travelled to Italy. When I returned I was employed on a large scale renovation
project at St Mary Star of the Sea in West Melbourne. These experiences had a profound
impact on me. I felt compelled to make large scale paintings. The technical challenge was
motivating. I wanted to test my skills and attempt to paint figures on a human scale.
One of the themes I chose from classical mythology was Diana and the Hounds, known as
Artemis in Greek mythology and Diana in Roman times. The second painting is a copy of a
music playing Angel by Melozzo da Forli. One of fourteen fresco fragments, the original
decoration was painted around 1480, destroyed in 1711, the fragments now displayed in
the Vatican Museum.
The combination of renting, moving and the size of the paintings meant that I was unable
to finish both works. Many years on, now at RRRTAG, I have the opportunity to step back
in time. The painting of Diana is not a copy of a pre existing painting, rather my own
composition, bringing together studies drawn from life and other sources, to make an
original work.